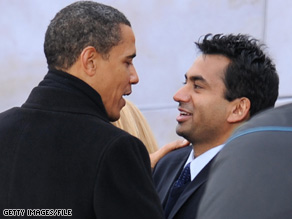 photo and story courtesy of cnn.com
"

Actor and longtime Obama supporter Kal Penn is joining the Obama administration, the White House confirmed to CNN Tuesday.
The actor will be part of the White House Office of Public Liaison, which is run by Obama senior adviser Valerie Jarrett. Penn will be primarily involved in dealing with Asian American and Pacific Islander communities and the arts community.

"
One more thing that makes Obama look awesome in my eyes.
FYI: If you don't know who Kal Penn is, I'm sure you've been living under a rock. Underwater. On Mars.
And...if Obama is cool with putting Kal Penn on his administration...I'm pretty sure other things will be on the way.
420 things, to be precise.
:o)